Date

Friday, January 21, 2022
Avalanche Canada has issued a Special Public Avalanche Warning. Read on for an explanation of what forecasters are thinking.
This weekend, Avalanche Canada, in partnership with Parks Canada, issued a Special Public Avalanche Warning (SPAW) for several regions in the southern half of BC and western Alberta. Our concern is the warm temperatures and clear skies in the forecast, which will destabilize buried weak layers in the snowpack.
We have written previous articles detailing activity associated with these layers, including this blog from Dec 30 and this photo essay from Jan 5. The large, spooky, mostly human-triggered persistent slab avalanches on the December layer really makes the hairs on the back of my neck stand up!
I'll add a couple of more recent images to hammer home the point: the December weak layer cannot be trusted.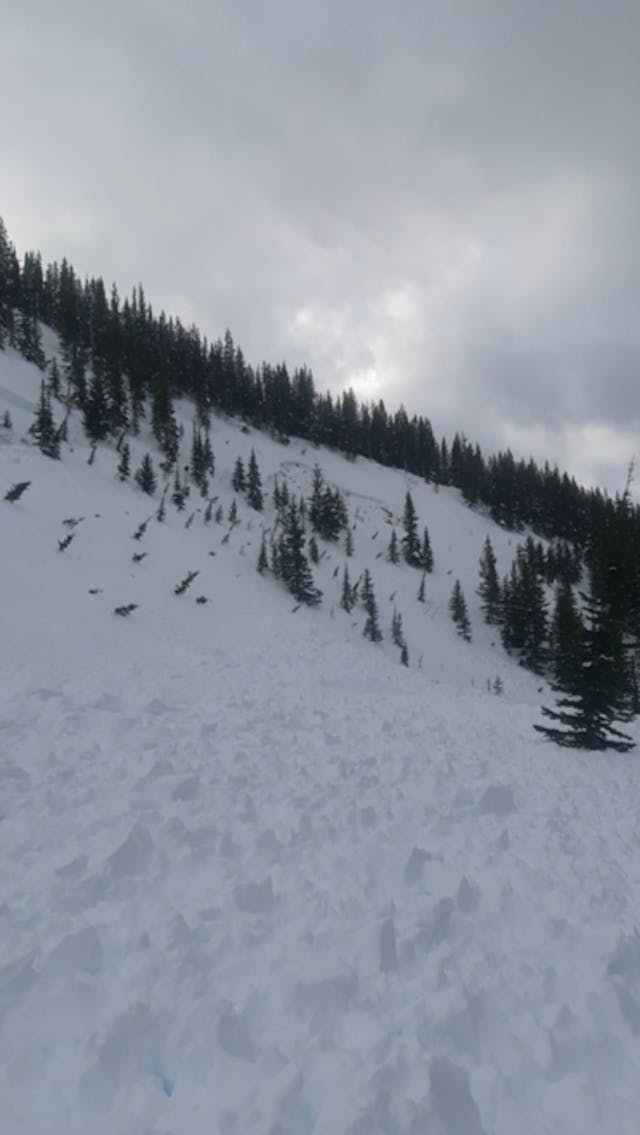 This skier triggered event occurred at North Tombstone in the Lizard Flathead region and was submitted to the Mountain Information Network on Jan 15. Credit: MIN user FBS.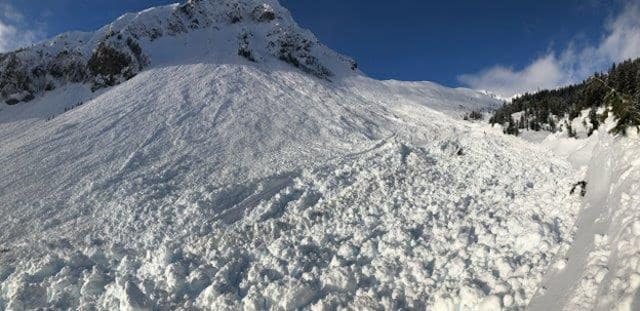 This size 4 avalanche occurred in the Sea to Sky region on January 15. This gives a harrowing perspective of the scale that we're talking about here. There are additional photos of this event at the bottom of this article. Photo credit: Powder Mountain Snowmobile Club.
Previous patterns of avalanche activity have told us that the December layer is most likely to become active during periods of warming. Guess what? There is a big, warm ridge poised to affect western Canada starting today (Friday Jan 21), extending through the weekend and into the start of next week.
There are some nuances to how the warm weather is likely to come in, depending on where you are. Looking at the map below, we can divide the area of concern into two broad zones: a coastal zone that also includes much of the Kootenay Boundary region, and an interior/Rockies zone.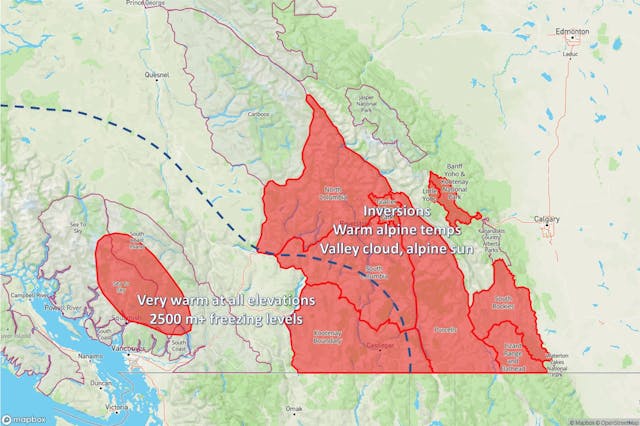 In the coastal/Kootenay Boundary zone, we're expecting broad-scale warming that will affect all elevations. You can see this illustrated in a different way using a freezing level timeline below.

This freezing level timeline is for Brohm Ridge north of Squamish in the Sea to Sky region. The bold red line indicates the freezing level and the zone of warm air is annotated on the chart. By around noon on Saturday, warm air is expected at all elevations.
Contrast the pattern above with a freezing level timeline from the interior/Rockies zone.

This freezing level timeline is for Fidelity Mountain in Glacier National Park. The upper, oval-shaped line marked with an "0" indicates an inversion, with above-freezing temperatures at higher elevations. In the interior/Rockies zone, we're more likely to see cooler mid-elevation temperatures, but alpine areas will be warm with plenty of sunshine.
The likelihood of an avalanche will be linked to three main factors this weekend: how warm it is; how sunny it is; and the structure of the snowpack.
Areas that harbour weak layers and get hit with a double whammy of warm temperatures and sun are the most likely to produce very large avalanches. However, where the snowpack structure is inherently weak, experiencing only one of these weather factors (either warming or sunshine) may be sufficient to trigger a large avalanche.
Many professionals have described the current snowpack as "untrustworthy". Combine that with a very significant warm-up and it suggests this weekend is not the time to seek out big lines. If very large avalanches do occur, keep in mind they can run beyond historic path boundaries and trim lines. So it is essential to understand where you are in the terrain and what is above you at all times. 
Best advice is to stick to simple and/or small terrain that is insufficient to result in a burial if the slope was to slide. Find a low angled slope and soak up some rays!
Ari/James.
Additional photos of the Jan 17 size 4 avalanche in the Sea to Sky region. Photo credits: Powder Mountain Snowmobile Club.