The Gordon Ritchie Service Award program began in the spring of 2009. This award was created to recognize individuals or organizations who have demonstrated a significant commitment to public avalanche safety in Canada.
Gordon Ritchie has been a leader in the Canadian avalanche industry since the early 1980s. He was instrumental in developing the first Recreational Avalanche Courses, served on the board of the Canadian Avalanche Association, and was a founding director and long-time President of the Avalanche Canada Foundation. The Avalanche Canada Service Award was renamed in 2019 in honour of his many contributions to public avalanche safety.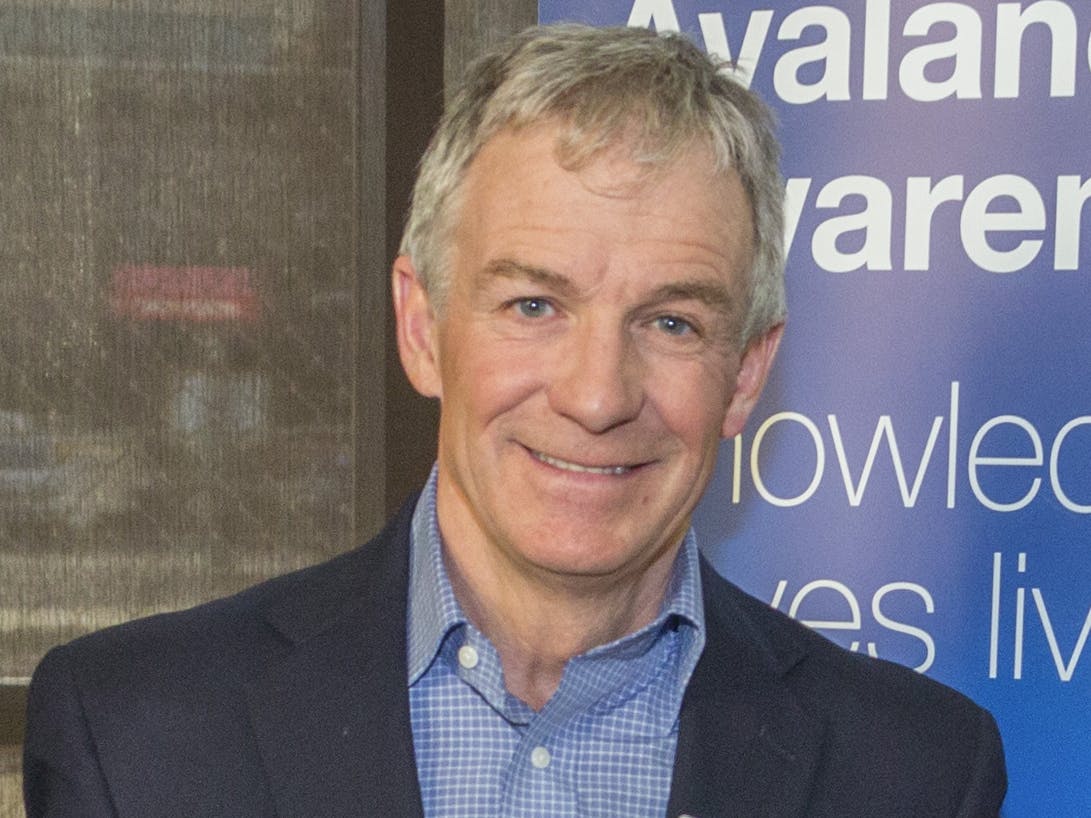 2023
Pascal Haegeli has been at the leading edge of research that has shaped both public avalanche safety and the way professionals think about avalanche hazard. His research focuses on applying a practical, science-based approach to human factors in backcountry decision making.
His work formed a key part of developing the Avaluator, changed the way the professional sector use airbags, presented a new perspective on avalanche burial survival times in Canada, and contributed to developing InfoEx 3.0. In his current research, he is looking into how guides incorporate hazard ratings into their decisions.
He is also a tenured associate professor at Simon Fraser University, where he currently holds the NSERC Industrial Research Chair in Avalanche Risk Management, where the students he supports are doing crucial research into who uses public avalanche forecasts and how they use them.
2022
Karl Klassen and Mary Clayton
Karl Klassen and Mary Clayton have shaped public avalanche safety in Canada, helping to build Avalanche Canada into a world leading public avalanche safety organization. Both were with the Canadian Avalanche Centre at its inception and moved to Avalanche Canada as it took its current form,  taking well-earned retirement at the end of the 2021-22 season.
Karl, a certified Mountain Guide with the ACMG, started as an avalanche forecaster before becoming the Manager of the Public Avalanche Warning service in 2009. He took a small, dispersed group of forecasters and built them into the world's largest forecasting program, leading them through the cutting edge of public forecasting. In 2022, Avalanche Canada launched the groundbreaking AvID forecasting software, which Karl worked tirelessly to bring to fruition.
Mary brought a unique set of skills to her role as Communications Director with Avalanche Canada, as a journalist with an avalanche control background. She held the first communications role dedicated to public avalanche safety in Canada and shaped the way that we communicate with the public about avalanches. Her vision, including implementing the Special Public Avalanche Warning system, has nurtured an awareness of avalanche safety among the Canadian public.
2021
Dr. Bruce Jamieson has made numerous invaluable contributions to the avalanche industry over his 40-year career. He earned a PhD in avalanche mechanics in 1995 from the University of Calgary, where  became a professor of civil engineering. He held the NSERC Research Chair in Snow Avalanche Risk Control, and led the Applied Snow and Avalanche Research Group from 2004–2014. The research conducted by Bruce and his team led to many advances in avalanche safety. 
Bruce's contributions to public avalanche safety are numerous and range from research to hazard assessment to education. At Avalanche Canada, we are most grateful for his generosity in sharing his considerable knowledge and expertise through teaching and writing. He has taught recreational and professional-level courses, and one of his books, Backcountry Avalanche Awareness, was the textbook for our AST 1 program for many years. 
While he is now retired from the university, Bruce continues to keep busy as a consultant. Through his long career, his influence on public avalanche safety has yet to be fully measured.
2020
Dominic is the long-time executive director of Avalanche Quebec and has played a leading role in promoting avalanche safety in Quebec for over 20 years. He was tapped to start a centre for avalanche expertise in Quebec following a tragedy on Jan. 1, 1999, when nine people were killed when an avalanche struck a school where people were celebrating the New Year in the remote community of Kangiqsualujjuaq .
Over the years, he has overseen the organization as it has grown to become Avalanche Quebec and, this year, celebrating its 20th anniversary. Avalanche Quebec provides education and outreach in La Belle Province, and produces daily avalanche forecasts for the Chic Choc Mountains. Dominic oversees a staff of seven that includes three avalanche technicians, three forecasters, and a communications specialist.
Dominic has also been instrumental in developing the next generation of avalanche professionals in Quebec. Since 2004, he has taught over 200 students in their first level of professional training, the CAA Avalanche Operations Level 1. Avalanche Quebec is a key partner as Avalanche Canada implements its national strategy and we would not be here today without Dominic's contributions.
2019
Gordon Ritchie has been instrumental in developing public avalanche education since he first became involved in the field in the 1980s. From developing of the first Recreational Avalanche Courses, to setting the foundations of the Avalanche Canada AST courses we have today, Gordon has been a constant in improving public avalanche safety. In addition to his work in education, Gordon has also served on the board of the CAA and was a founding member of the Avalanche Canada Foundation board, where he now serves as President.
To recognize Gordon's enormous contributions to public avalanche safety, we are pleased to announce that the Service Award will be renamed to the Gordon Ritchie Service Award. It will be presented annually to an individual who has made an outstanding contribution to public avalanche safety in Canada.
2018
Chris Brookes is the Executive Director of the Alberta Snowmobile Association (ASA). Chris and the ASA has been a long-time supporter of Avalanche Canada and a strong advocate of avalanche safety training. Chris continues to demonstrate true leadership in his efforts to encourage avalanche safety training among snowmobilers. His support for our work has made a big difference and we are very pleased to recognize his work with this award.
2017
Teck has been a very important and long-time sponsor of our South Rockies avalanche field team. Nic is the Manager of Social Responsibility for Teck and it is through his commitment and vision that we are able to support a full-time field team in the South Rockies region throughout the winter. The field team's importance to Avalanche Canada's programs and services for this region cannot be overstated. Truly, this is a model for other regions and we regularly point to Teck's leadership as an example of outstanding corporate responsibility.
2016
Working for Backcountry Access, the Deb and Dwayne Paynton have been in the avalanche safety business for many years. Over that time they have always been strong supporters of Avalanche Canada and very generous with their time and contributions. The Payntons have also played an important role as advisors to Avalanche Canada's snowmobile outreach.
2015
For his role in establishing AvCan's highly popular mountain weather forecast. The daily online service went live in November 2014 and proved immediately popular with users.
2014
For his outstanding contributions to public avalanche safety initiatives throughout his career as Mountain Risk Specialist for Parks Canada.
2013
For his commitment to promoting avalanche safety in the snowmobiling community and his fundraising efforts through Team Thunderstruck.
For his efforts and energy organizing the Canuck Splitfest, an annual backcountry celebration and fundraiser for the Avalanche Canada Foundation.
2012
For their immense contributions to public avalanche safety in Canada, including the development of AvalX avalanche forecasting software.
For his ongoing dedication to promoting avalanche awareness within the mountain snowmobiling community.
2011
For working tirelessly with non-government organizations to assist them in addressing their challenges with respect to managing avalanche hazards and safety.
For his leadership in uniting ABCSC member clubs in support of improved avalanche safety for snowmobiling in Canada.
2010
For his dedication to the development of ATES terrain ratings for managed snowmobiling areas across the province.
For being the moving force behind fundraising events for public avalanche safety.
2009
For actively promoting public avalanche safety and teaching avalanche courses in the Yukon for over 15 years.
For her contributions and dedication to advancing avalanche safety education for snowmobilers.