Date

Friday, October 29, 2021
How to avoid being spooked in the mountains this Halloween
Boo to you from our crew! It's that time of year again. The valleys have transformed into a gloomy shadow of their former selves while the sudden appearance of ghostly white mountain tops speaks to the enchantment of winter.
Taking care of your body might not be the first thing on your mind while hoovering up Halloween treats, but it's definitely a mindset to take with you if you're heading into avalanche terrain at this time of year. Info coming out of the mountains is still quite scarce and forecasts don't start until November 25. This means you'll need to make your own observations and assess conditions as part of your decision-making process. The Dangerator could be useful here but leave the Ouija board at home! You can also check out our Early Season Conditions page for a discussion of the different types of mountain hazards that start to reanimate at this time of year.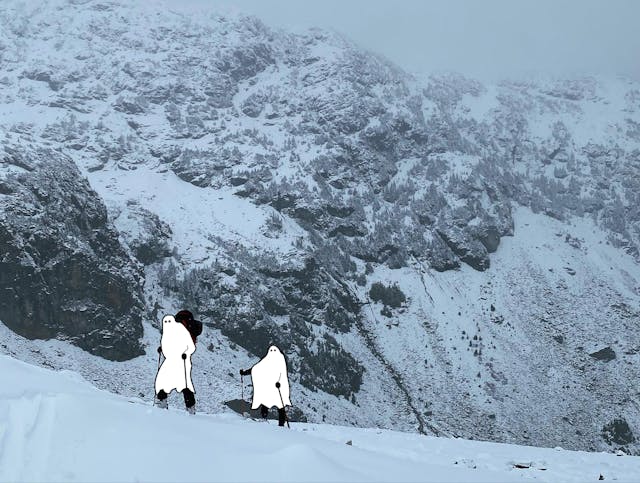 Coverage steadily improving In the Mountains of Madness (aka Brandywine Valley, Sea to Sky region). Photo: Jack Casey.
Be sure to do a thorough equipment check when it's time to swap your Squid Game costume for backcountry gear. You'll want to make sure your transceiver has new batteries and up-to-date firmware. Also check your probe and shovel are working properly, and, if you have one, charge up your avalanche airbag pack. Hopefully you kept your ski/splitboard, snowshoe, and sled maintenance up over the summer so that you don't get stranded on your way home through those ominous woods on your first day of the season.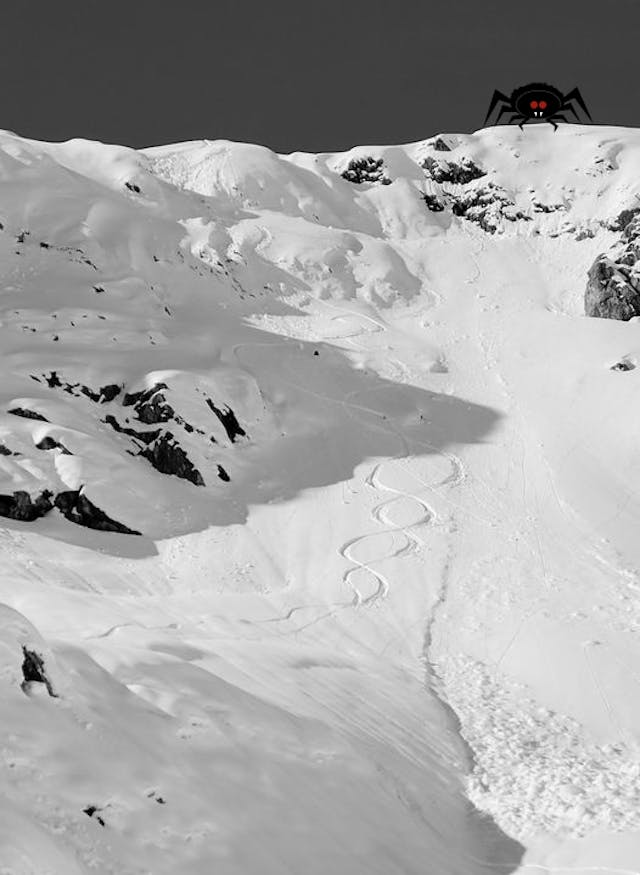 Hypnotic powder 8's flank an Sa (spider accidental) in Brandywine, demonstrating there's definitely enough snow to slide out there. Photo: Reece A.
Just like plotting out the best route for trick-or-treating in your neighbourhood, this is a time to think carefully about where you travel in the mountains and what terrain you want to pay a visit to. With this in mind, jumping on the first big, steep slope you see might not be the best idea and might give you more of a scare than you're after. There's a lot of winter ahead and easing into terrain gradually, evaluating slopes for the potential for avalanches will help to ensure you're able to enjoy it fully rather than nursing an early season injury, or worse. Heading out to some familiar haunts also probably makes more sense than a long-distance journey into the heart of darkness as daylight hours keep whittling away toward solstice.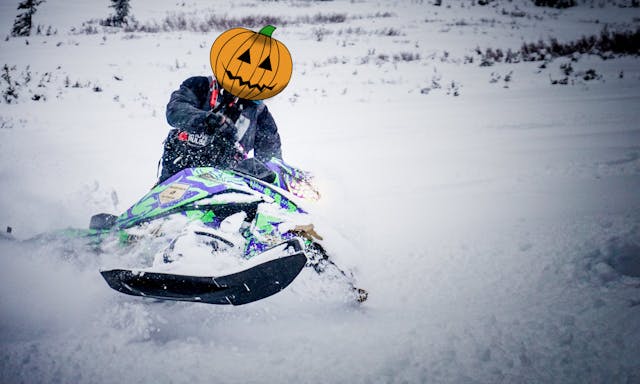 Field tech Jack O. slashing some low angle meadows to avoid murdering an A-arm in October. Photo: Nicole Matei.
Depending where you are, clearing skies and fresh snow in the mountains could lend well to an exploratory mission this weekend. If you decide to go and check things out for yourself, keep the ideas from this blog in mind and be sure to share your observations with the community on the Mountain Information Network. Scary Halloween crust? Wickedly white slopes reaching threshold depth for avalanches? Ski bases gored by sharks lurking just under the surface? Let us know!
Colin Garritty