Date

Wednesday, November 24, 2021
What you should know about avalanche forecasts early in the season.
Welcome one and all to the 2021-22 avalanche forecasting season! Step right up!
As you read this, our home page will be brightened with the colours of danger ratings—and it isn't a moment too soon. With snowpacks of varying heights and structures taking shape across western Canada, and headlines like 'Atmospheric Onslaught' leading the Mountain Weather Forecast, it's time for all of us to get our heads into the avalanche game.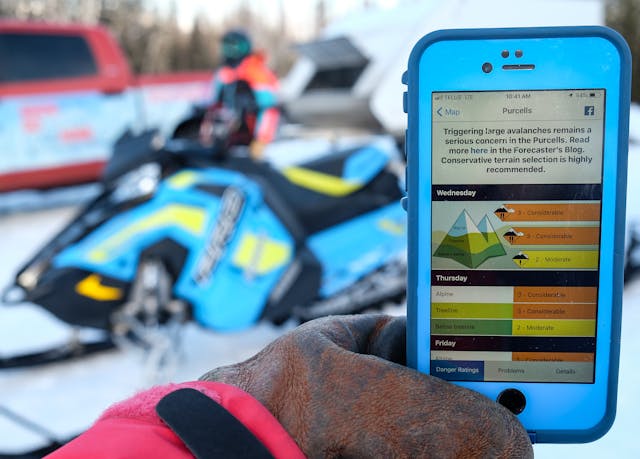 It's time to start checking the avalanche forecast. (Note: the current forecast is not pictured.) Photo: Jen Coulter
The first thing to know about our initial forecasts—and it's probably clear in more than a few bulletin headlines—is that forecaster confidence is firmly in the low-to-moderate range. On the whole, our professional avalanche data stream is better described as a trickle. A few ski resorts are spinning their lifts, heli-skiing and cat-skiing operators are easing into their tenures, and professional guides are making their first forays into the field. Avalanche Canada field teams are about a week away from start-up, which is especially important to building a picture of the snowpack in the regions in which they operate: the North Rockies, South Rockies, Northwest BC, Vancouver Island, and Yukon.
Until all these operators are in full swing, our forecasters will be making the best of a limited data set. They'll rate their confidence in their forecasts as either low, moderate, or high on the Details tab of each avalanche forecast, so be sure to check it out as you read the bulletin.
So, how do we manage risk and exposure to avalanche terrain in a low-confidence scenario? Here are five strategies:
1. Mellow slopes=better riding=less danger
Making conservative terrain choices is the safest option when there is limited information about the snowpack. This approach can also help avoid early-season injury. It's usually the riders rushing on to steep features in the early season that find bone-jarring crusts, hidden sharks, and marginal sliding conditions. Seek out lower-angle terrain where snow has been filling in the cracks and gaps. You'll be less likely to snag something lurking under the snow, and you'll have minimized your exposure to avalanche terrain to boot.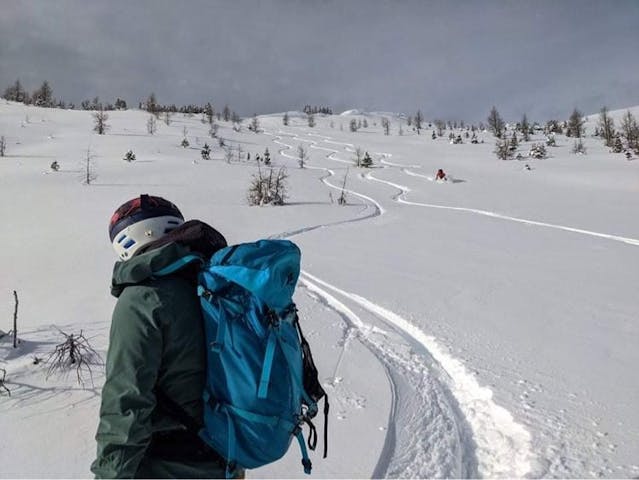 Taking it easy on mellow slopes is a great early-season option. Photo: kflans.
2. Gather info as you travel
This means watching for signs of instability, observing the bond of new snow to any old surfaces, scanning terrain for wind loading patterns, and thinking about how any weather changes you're experiencing will affect avalanche conditions.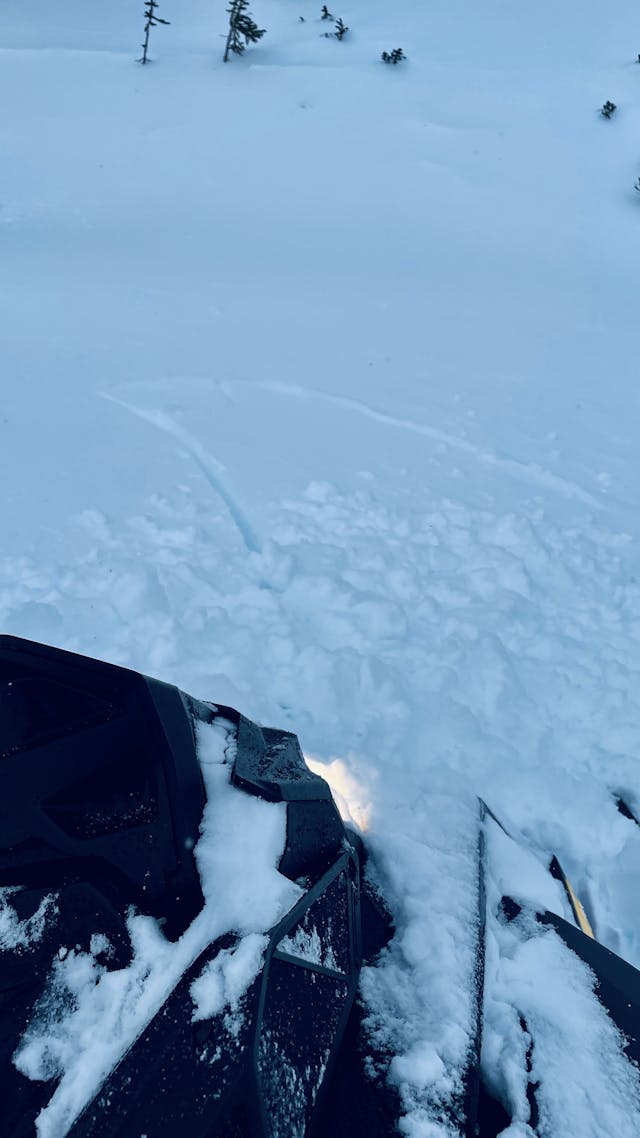 A savvy sledder's snap of shooting cracks (a strong sign of instability) at Bullmoose in the North Rockies. Photo: Dave Mustang
3. Pay attention to snowpack depth
If the snowpack is thin, lumpy, and perforated with bits and pieces of ground roughness like small trees, rocks, and alder, there's a good chance the snow isn't deep enough for avalanches. Once you start to see smooth snow cover that has overcome ground roughness, the threshold depth for avalanches has been achieved. That means it's game on—especially as new snow accumulates on this surface. Note how this characteristic varies with elevation as you move through the mountains.
4. Think thin-spot triggering
That thing I said in the last section about thin snowpacks and threshold depths? Toss it out as you approach the alpine. Many alpine slopes are plenty smooth with even the thinnest blanket of snow over them. In fact, some of the easiest places to trigger an avalanche right now are where the snowpack goes from thin to thick on steep alpine slopes. This week's storm will do more to add consequence to this problem than it will to overcome it.
5. More MINs=more info
If you've had a chance to get out and check on conditions in your area, post your observations to the Mountain Information Network (MIN). This helps others in the community learn from your day in the mountains, and your avalanche forecaster will be stoked to have another piece of information to help them put together the conditions puzzle in your region. This is always a good thing!
A MIN contributor surveys the aftermath of an avalanche involvement in Glacier National Park on Nov. 22. Photo: OliD
A highly active weather pattern will increase snow depths and avalanche danger across western Canada this week. This doozy of a storm will make landfall on the BC coast on Wednesday and continue through to the weekend. That helps mitigate the uncertainty in the short term, as in most regions we'll have good confidence that avalanche danger will spike with its onset. Check your local avalanche bulletin to see how this storm is expected to affect regional avalanche danger.
Remember to ease into the mountains cautiously. It's a long season, full of opportunities for adventure, so keep that in mind when you head out.