Date

Wednesday, May 31, 2023
Pascal Haegeli, a renowned expert in avalanche safety research, honoured with Gordon Ritchie Service Award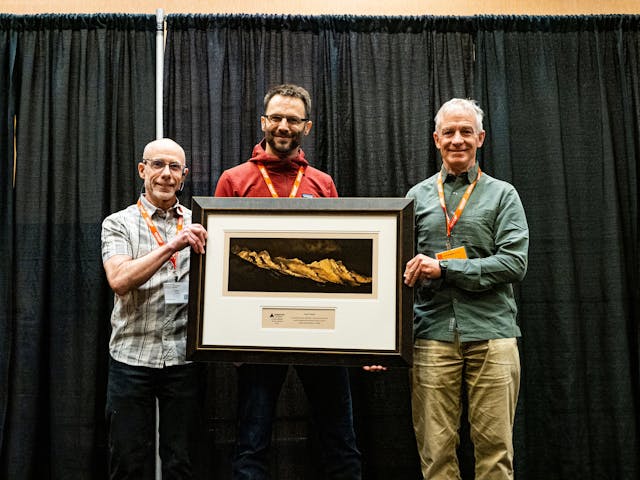 Pascal Haegli (centre) receives the 2023 Gordon Ritchie Service Award presented by Avalanche Canada executive director Gilles Valade (left) and Gordon Ritchie (right).
Each year, Avalanche Canada bestows the Gordon Ritchie Service Award upon an individual or organization demonstrating exceptional commitment to public avalanche safety. This year, we proudly presented the award to Pascal Haegeli in acknowledgment of his invaluable contributions to public avalanche safety. 
In 2004, when Avalanche Canada was established, one of our first major projects aimed to create a practical, science-based decision-making tool for recreational backcountry users. Pascal spearheaded this project, which resulted in the Avaluator. The Avaluator remains a cornerstone of our training program today. 
Over the years, Pascal has led some of the most significant and impactful avalanche research in the professional community. His study on airbag effectiveness has influenced workplace safety, while his fresh analysis of fatality data has provided a new perspective on avalanche survival times in Canada. He helped develop InfoEx 3.0 and the conceptual model of avalanche hazard. His ongoing research into how guides incorporate hazard ratings continues to stimulate thoughtful discussions. 
His work is equally vital for the recreational community. His research, and that of the program he leads, focuses on the science of human behavior. This is key to helping us understand how recreationists make decisions and how we can best encourage a thoughtful and structured approach to avalanche safety. This improved understanding of user responses to risky environments has enabled us to develop a range of tools, resources, and curricula. We now possess a deeper understanding of who uses the avalanche bulletins, what they understand, how external factors influence them, and what information they may be missing. Pascal's essential research remains a driving force, consistently inspiring and guiding our efforts. 
Pascal holds a tenured associate professorship at Simon Fraser University, where he currently serves as the NSERC Industrial Research Chair in Avalanche Risk Management. He is also an integral part of our Avalanche Canada family.