Date

Monday, January 10, 2022
Avalanche forecasts will be provided for Newfoundland for first time ever.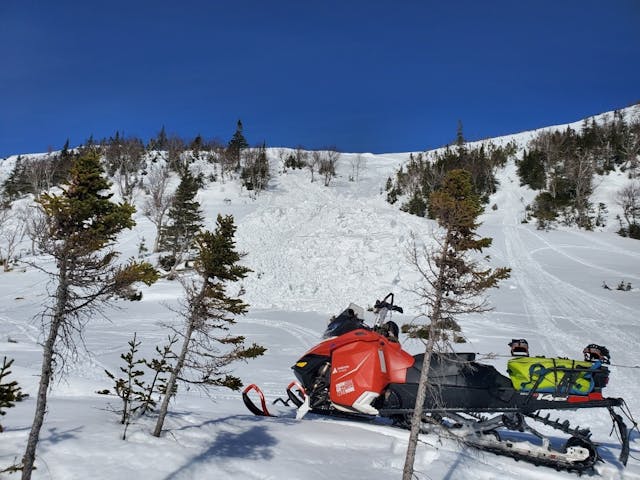 A large avalanche observed by the Newfoundland field team in March 2021.
February 14, 2022, Revelstoke, BC: Avalanche Canada will publish the first-ever avalanche forecasts for Newfoundland and Labrador starting this weekend.
This pilot project will provide weekend forecasts for the Long Range Mountains, including Gros Morne National Park, for six weeks, from Feb. 18 to Mar. 26.
"Avalanche Canada is proud to expand its reach by providing avalanche forecasts in Canada's easternmost province," says Avalanche Canada's Executive Director Gilles Valade. "These forecasts will give residents and tourists a valuable tool to plan safe trips into the province's dramatic winter backcountry."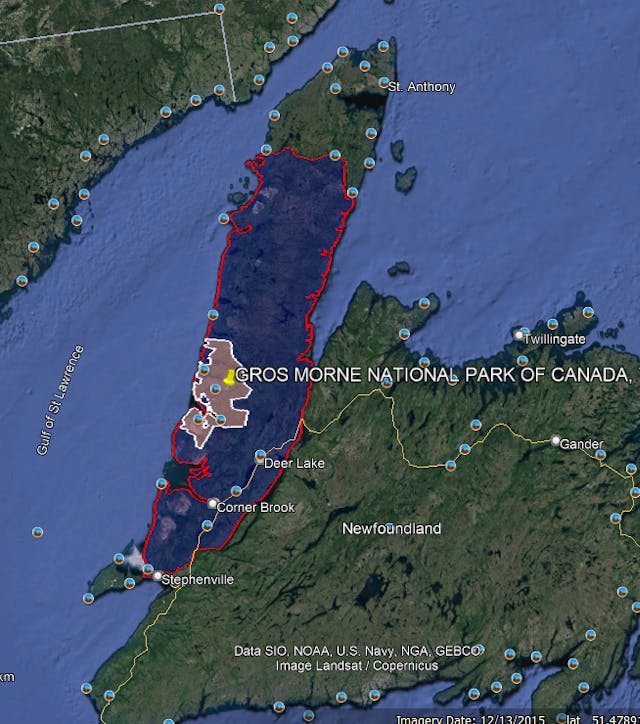 The Newfoundland avalanche forecast region.
An avalanche forecast provides valuable information about avalanche danger for a given mountainous area over a certain time. They feature danger ratings, avalanche problems, and details on snowpack, avalanche observations, and weather. Throughout the pilot project, forecasts will be published on Fridays and Saturdays at around 5 pm NT, on avalanche.ca and the Avalanche Canada app.
As with other mountainous regions of Canada, winter backcountry recreation is growing in Newfoundland. Snowmobiling has long been popular in the province, with more riders pushing into steeper ground. Backcountry skiing, snowboarding, and ice climbing is also growing quickly in popularity, and many people enjoy the mountains on snowshoes. This means many more people are recreating in avalanche terrain.
"Visitor safety is a top priority for Parks Canada and the information supplied by Avalanche Canada through these forecasts will be an excellent resource for visitors planning winter activities in Gros Morne National Park," says Tambrae Knapp, Acting Field Unit Superintendent for Parks Canada in Western Newfoundland and Labrador. "The Park offers a variety of winter recreation opportunities. Having access to this tool and the educational resources available on the Avalanche Canada website will help visitors in their decision making as they plan their winter adventures."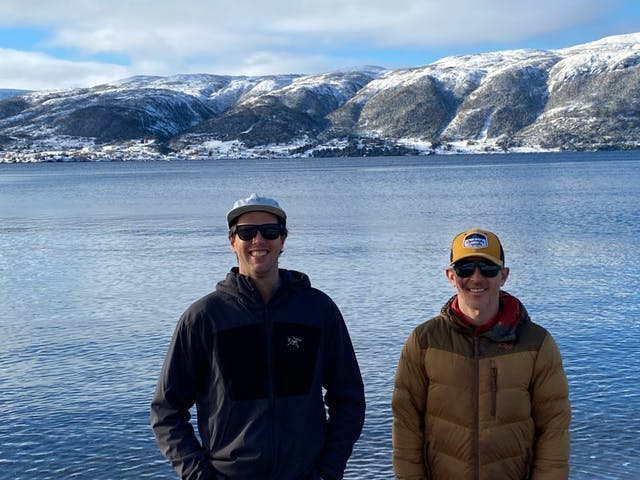 Our Newfoundland field team consists of Andy Nichols (right) and Peter Thurlow (left). Both are based in Rocky Harbour and each has a strong history of backcountry experience and professional-level avalanche training.
"Having grown up in Deer Lake, it gives me great pleasure to help produce avalanche forecasts in my home province," says Andy Nichols, Avalanche Canada's NL Field Team leader. "More and more people are recreating in our mountains each year, and I want to make sure they do so safely."
Avalanche Canada is hosting a webinar on the forecast program this Thursday, Feb. 17, at 7 p.m. NT. Register on our events page.
See the backgrounder below for more information on Avalanche Canada's programs.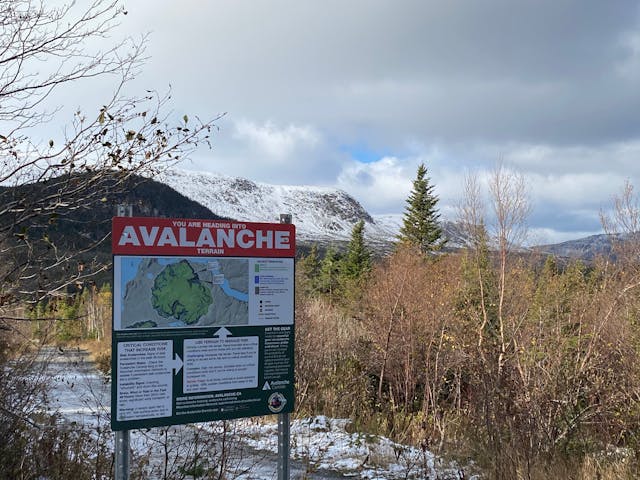 Avalanche terrain maps are now located at many popular trailheads in the Long Range Mountains of western Newfoundland.
Backgrounder
What is an avalanche forecast?
An avalanche forecast informs the public about the avalanche danger for a given mountainous area over a certain time. Avalanche Canada forecasts include danger ratings, avalanche problems, and details on snowpack, avalanche observations, and weather. Recreationists in Newfoundland can see the forecast at avalanche.ca/nl.
Avalanche danger is rated on a five-point scale of Low, Moderate, Considerable, High, and Extreme. Each level is defined by the likelihood of avalanches and their expected size and distribution.
Avalanche problems show what kind of avalanches are expected, where they are most likely to be triggered, how likely they are to be triggered, and the expected size. There are eight avalanche problem types that are used in forecasts.
The details tab provides additional information on recent avalanche observations, snowpack conditions, and the weather forecast.
Learn more about using the avalanche forecast in Avy Savvy, our online tutorial.
What are terrain ratings?
In 2019, Avalanche Canada published specialized maps with terrain ratings for some of the more popular riding areas in the Long Range Mountains. These maps use the Avalanche Terrain Exposure Scale (ATES), which uses a three-point system to rate popular backcountry areas based on the potential for avalanches. The maps are posted at popular trailheads and are included in the online trip planner.
Simple terrain contains little or no avalanche terrain and there are many options to reduce exposure.
Challenging terrain contains well defined avalanche paths and exposure can be reduced with careful route finding.
Complex terrain is exposed to multiple avalanche paths and minimal options to reduce exposure.
For more information, see Avy Savvy.
The combination of ATES ratings and the avalanche forecast provides the best trip-planning information available. With this forecast pilot project, backcountry users in NL will be able to use the online trip planner to plan their weekend adventures. They will also be able to use the Avaluator trip planner, a tool supplied with the Avalanche Skills Training 1 course.