Date

Friday, June 4, 2021
More than 15,000 people enroll in Avalanche Canada Training program courses
The Avalanche Canada Training (ACT) program had a record-breaking year, with more than 15,000 people taking part in one of our courses. This is a 28% increase over the previous high of 11,728, which was reached in 2018-19.
We are thrilled by the uptake in our courses this winter and the interest backcountry recreationists showed in avalanche safety training.
Here is the breakdown of student numbers by course:
Avalanche Skills Training 1: 13,119
Avalanche Skills Training 2: 1,603
Companion Rescue Skills: 141
Managing Avalanche Terrain: 166
More snowmobilers took courses this winter and the number of snowshoers taking an AST 1 leapt to 1,295.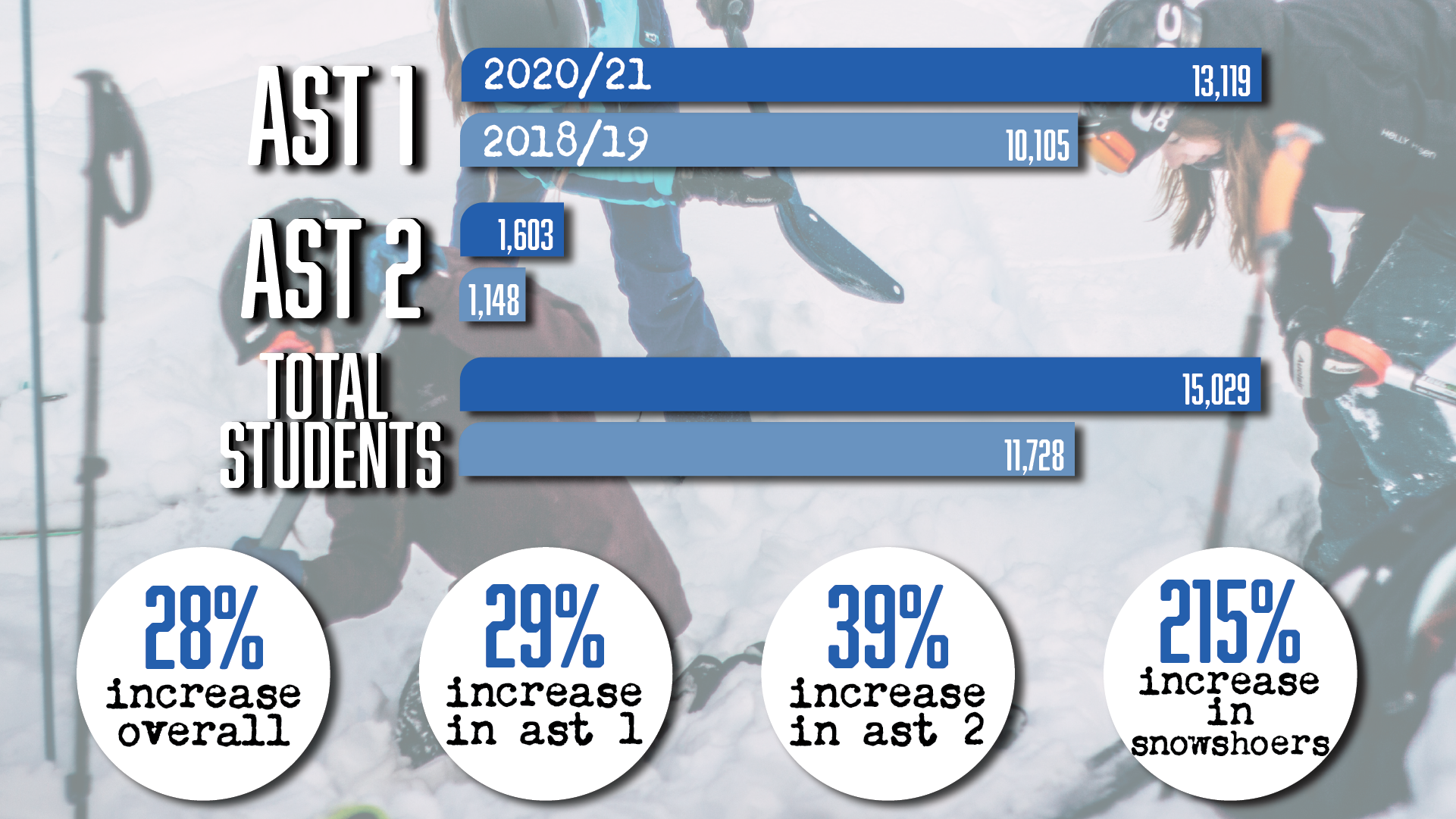 Note: This year's numbers are compared to 2018-19 as that was the last full season of courses. The 2019-20 season was cut short due to the pandemic.
It was a challenging year for the ACT program as we had to adapt our courses to meet provincial health restrictions. However, this training was deemed essential by public health officials and we took steps to help AST Providers deliver their classroom sessions online..
We created online resources and recorded presentations were made available to all instructors to help them develop their practice. We also provided online training to help instructors learn the new tools.
We are extremely grateful to all the instructors in the ACT program for both stepping up to meet the demand for instruction and for continuing to teach courses in a challenging environment. We provided instructors with flexibility in how they taught their courses and interacted with students, and they took advantage of this to create new ways of teaching courses and engaging with students.
Enrolment in the ACT program has increased steadily for more than a decade and we hope to see this continue as more and more Canadians enjoy our winter backcountry.