Date

Tuesday, May 18, 2021
Avalanche Canada forecasts coming to Vancouver Island, and new field team for northern BC
Avalanche Canada will be providing forecasts on Vancouver Island and expanding programs in northern BC thanks to a $10 million grant from the BC Government announced on May 17. With this funding, new field teams will be established on Vancouver Island and in north-central BC.
"We are very happy to now have the funding to expand our services," says Gilles Valade, Executive Director of Avalanche Canada. "Our priority is stability. We never want to introduce a regional program and then have to curtail it after a few years. We need to know we can support a long-term commitment."
Avalanche Canada will begin publishing regular forecasts for Vancouver Island in November. This service was previously provided by the volunteer-run Vancouver Island Avalanche Centre Society (VIACS) for the past 14 years. But even with strong support from their community, maintaining a public avalanche safety program is challenging for a small society.
"A tremendous amount of volunteer time and energy was required to provide this service," explains Ryan Shelly, President of VIACS. "We are pleased that Avalanche Canada can now build on the solid foundation we've created."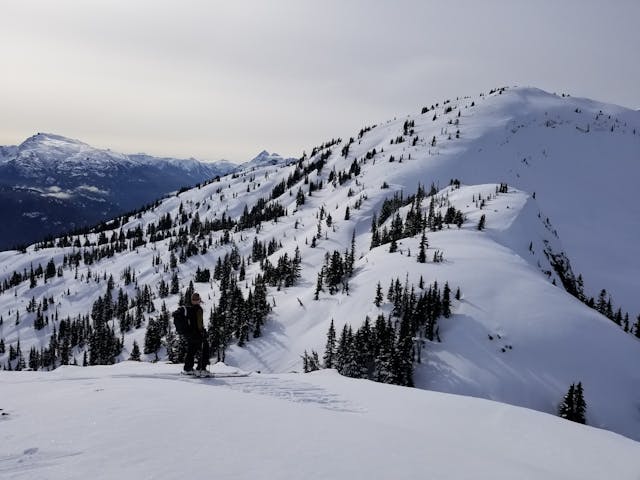 An Avalanche Canada forecaster eyes the terrain during a trip to Vancouver Island in 2019. For the coming season, a local field team, based in the region, will collect snow and avalanche data to support a regular Vancouver Island forecast by Avalanche Canada. Photo by Michael Conlan
Northern BC is also a priority for this new funding. A new field team will be established in north-central BC, with the exact location yet to be decided. Avalanche Canada has had a field team in the North Rockies region for the past two years, whose members are based in McBride and Prince George. An additional field team in the north will provide more vital data for those regional forecasts.
"This grant will help to ensure the long-term sustainability of existing programs in the province, adds Valade. "This 10-year funding agreement means we can focus less energy on securing funding and more on delivering programs to British Columbians."