Date

Thursday, October 20, 2022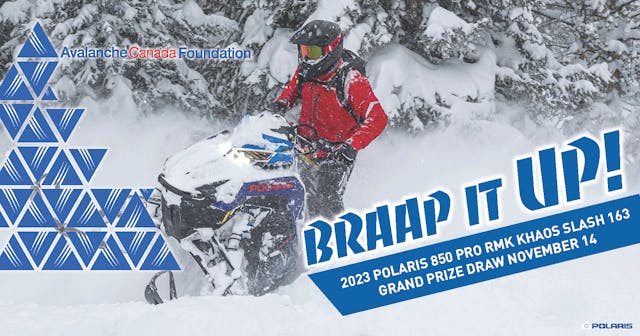 After the roaring success of last year's event, the Braap It Up! fundraiser returns this year. Braap It Up! runs until Monday, November 14, with early bird tickets available until Friday, November 4. Entries are $20 and there are only 5,000 available—which makes for some good odds at winning a brand new snow pony!
The grand prize for this year's prize draw is a fantastic 2023 Polaris 850 RMK Khaos Slash 163 valued at $18,999. There's also an early bird draw on Nov. 4, where we're giving away an AST 1 or 2 course for one lucky winner and their friends.
Every penny raised from this event directly supports Avalanche Canada's snowmobile safety and outreach programs. And this year, 10% of the money raised will go directly the Al Hodgeson Memorial fund, which supports snowmobilers in taking recreational or professional level avalanche safety training.
The event also has an online silent auction with great gear provided by our sponsors. There are lots of goodies up for auction, including airbags, superclamps, avalanche training, and trail passes. Get your bids in today.
These fundraisers are essential to AvCan and would not be possible without the support of our sponsors. We're very grateful for their donations and commitment to avalanche safety.