Date Issued

Wednesday, January 26, 2022

Valid Until

Thursday, January 27, 2022

Prepared by

wlewis
Isolated pockets of wind slab sit at higher elevations - winds have varied so expect loading on all aspects.
Wet loose avalanches remain possible with continued warm temperatures and sun. Step back when surface snow becomes moist and loses cohesion.
Travel and Terrain Advice
Carefully evaluate steep lines for wind slabs.
Avoid slopes when the solar radiation is strong, especially if they have large cornices overhead.
Rocks will heat up with daytime warming and may become trigger points for loose wet avalanches
Cornices become weak with daytime heating or solar exposure.
Avalanche Problem 1: Wind Slab
Recent winds have varied in direction, expect wind slab on all aspects. These isolated pockets of wind slab at higher elevations may remain reactive to human triggers in immediate lee terrain near ridge crest or in extreme terrain.
Avalanche Problem 2: Wet Loose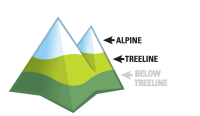 Wet loose avalanches are possible on steep south aspects with warm temperatures and sun. Use caution in the heat of the day.
Avalanche Summary
Avalanche activity associated with the sustained warm temperatures has been minimal. On Friday and Saturday, small loose wet avalanches were observed out of steep south and east facing terrain.
Explosive control work over the last 4 days produced cornices up to size 2.5 on all aspects. Natural and skier triggered wind slabs size 1.5-2 were reported on Friday.
Snowpack Summary
Higher elevations hold dry snow in the form of lingering wind slabs, mostly on north and east facing slopes. However recent winds have varied, expect winds to have loaded all aspects.
The widespread and robust January 16 melt-freeze crust sits up to 30 cm deep, as high as 2100 m. There have been some observations of surface hoar sitting on the crust on polar aspects at treeline and in the alpine north of Pemberton but this does not appear to be widespread. At lower elevations, the previously rain soaked upper snowpack is moist or wet and may be capped with a breakable crust.
The depth of the early December crust/facet layer is highly variable through the region but appears to be typically down 100-200 cm. Some operators are showing the depth as low as 60 cm in shallow snowpack areas and as deep as 3 m in wind loaded terrain. The weak layer is most prominent between 1700 and 2100 m. After showing no reactivity in the peak of the warming event on the weekend, we cautiously reclassify this layer as dormant for now.
Weather Summary
A high pressure system has established itself across the coast. Clear skies and warm air at higher elevations will persist until Friday.
TUESDAY NIGHT: Scattered thin cloud, with easing moderate NW winds. Freezing levels 2500 m with an inversion.
WEDNESDAY: Sunny, light NW wind, freezing levels around 2500 m with an inversion. Alpine high of +2.
THURSDAY: Sunny, moderate SW wind, freezing levels around 2500 m with an inversion. Alpine high of +2.
FRIDAY: A mix of sun and cloud, moderate SW winds. Freezing levels below 1000 m over the day. Alpine high of +1.
Confidence

High
We have a good understanding of the snowpack structure and confidence in the weather forecast