Date Issued

Friday, December 3, 2021

Valid Until

Saturday, December 4, 2021

Prepared by

TRettie
Recent strong Southwest winds have created widespread wind slab in the alpine and upper treeline. carefully assess the wind slab hazard as you gain elevation.
Travel and Terrain Advice
Continue to make conservative terrain choices while the storm snow settles and stabilizes.
Watch for newly formed and reactive wind slabs as you transition into wind affected terrain.
Avalanche Problem 1: Wind Slab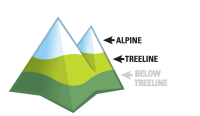 Large wind slabs will be found in the alpine and upper treeline. These slabs will remain sensitive to rider traffic. Avoid wind loaded terrain.
Avalanche Summary
On Wednesday several operations reported a widespread natural cycle up to size 3.5 including avalanches running full path.
Snowpack Summary
Recent strong winds have formed wind slab in all exposed terrain in Alpine and upper treeline. A new crust has formed below 2000m with moist snow underneath.
The average snowpack depth at treeline is 250cm.
Weather Summary
Thursday night: Freezing levels will fall to valley bottom. No precipitation is expected. Winds will be moderate from the West in the Alpine.
Friday: A ridge of high pressure will mean clear skies and light alpine winds. Freezing level will be at valley bottom.
Saturday: Temperature at 1500m -10. moderate to strong winds from the Northwest.
Sunday: high of -10 at 1500m, moderate winds from the Northwest in the alpine. No snow expected.